Meeting the needs of children with a Strategic Educational Ecosystem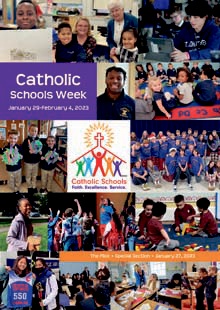 "I can do things you cannot; you can do things I cannot; together, we can do great things." -- St. Teresa of Calcutta.

Cristo Rey Boston is laser-focused on students' college and career attainment. With an average family income of $35,000, our students face unique challenges. Nevertheless, our aspirational young people yearn for a better future and are willing to work hard to achieve personal and professional success.

Held to rigorous academic standards while we support their intellectual, spiritual, and individual growth, we know students can succeed given appropriate support. The Catholic imperative to build a just and equitable pathway for students informs our school community.

The pandemic called into starker relief the disparities faced by Cristo Rey students. In response, President Rosemary J. Powers led a strategic discussion focused on serving students and their families. As part of the Boston educational ecosystem, we sought partners to broaden our impact, guided by our core values of Dignity, Perseverance, Growth, and Generosity.

Letting go of a more insular approach and viewing ourselves as part of a larger ecosystem allowed us to see the interconnected pieces. The discipline of envisioning how best to serve students from under-resourced communities required us to ask essential questions. What is our role in the ecosystem, to which tasks do we bring our strengths, and can we leverage that strength as we continue operating in this community?

Asking these critical questions in 2020 yielded deliberate partnerships that have outlived the pandemic's immediate crisis and created a collaborative model that understands that academic achievement depends on the health and well-being of the entire child. As a result, our students and their families feel valued and supported.

The Archdiocese of Boston's Catholic Schools Office (CSO) provided vital support and professional development opportunities enabling Cristo Rey Boston to increase the breadth and depth of parent engagement and focus on responding to the needs of students and their families. A grant from Ed-Vestors provided resources to encourage family involvement.

Many of our students lack a primary care physician or pediatrician. In response to our call for help, the Boston College Connell School of Nursing collaborated with us to address this issue. The resulting program, designed to meet students' health needs while providing BC's graduate students the opportunity to gain clinical experience, has been a success for all involved.

Cristo Rey Boston and Whittier Street Health Center also developed a partnership to support student and family health. The Whittier Street mobile health van is on campus weekly, providing essential health care, including eye and dental evaluations, physicals, and immunizations. The health center also offers monthly educational seminars for parents.

Hungry kids cannot learn. We have piloted a new school breakfast and lunch program at Cristo Rey Boston, partnering with StockPot Malden, which the Shah Foundation supports. Our on-site chef prepares delicious, culturally appropriate, nutritionally balanced meals for students for breakfast and lunch under the federally funded school lunch program guidelines.

Collaborations with Merrimack College and Franciscan Children's Hospital give faculty and staff significant professional development in the educational realms that guide educational policy and student well-being. This work continues to inform how we create interventions and policies that best benefit student outcomes.

A partnership with Boston College's Pulse program matches students with an undergraduate mentor for weekly tutoring sessions. The simultaneous application of high expectations with the support provided to reach success has become a winning combination. Other vital collaborations include partnerships with the Ignatian Volunteer Corps, the Jesuit Volunteer Corps, and the Dorchester Boys and Girls Club.

Students and staff have benefited from the generosity of Boston College High School, who have hosted Cristo Rey students at their college fair each year and invited our athletic teams to use their facilities. Additionally, the Jesuits priests at Boston College High have celebrated sacraments with us, enhancing the spiritual life vof students.

Most notable are the 95 Corporate Work Study Partners, who employ Cristo Rey Boston students, providing critical opportunities to gain experience in a corporate environment. As a result, our students can see their path from college to career. The Cristo Rey model provides a unique Boston high school experience, combining academic rigor with a corporate internship.

In conclusion, I return to the quote by St. Teresa. As educators, we know how to educate. It is incumbent on us to build an ecosystem that accounts for all the pressing needs of the students under our care. To create an environment where students are known and loved. Only then will they succeed. "Together, we can do great things."



DR. THOMAS RYAN IS THE PRINCIPAL OF CRISTO REY BOSTON HIGH SCHOOL, A TUITION-FREE CATHOLIC HIGH SCHOOL LOCATED IN DORCHESTER. DEDICATED TO SERVING ASPIRATIONAL STUDENTS FROM UNDER-RESOURCED COMMUNITIES ACROSS BOSTON WITH A MODEL THAT COMBINES COLLEGE-PREPARATORY ACADEMICS WITH A FOUR-YEAR CORPORATE WORK-STUDY PROGRAM, CRISTO REY BOSTON FOCUSES ON BUILDING LIFE-LONG SKILLS. BEFORE JOINING CRISTO REY BOSTON, DR. RYAN SERVED AT CATHOLIC MEMORIAL SCHOOL FOR 19 YEARS.