Celebrating Catholic Schools Week: We plant seeds and unifying love flares!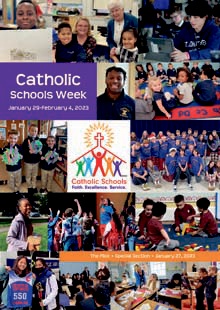 ''I love my job! Being able to bring God's love to children every day gives meaning to my life." It was a dreary Friday afternoon when Beth Sheehan made this comment about her ministry at St. John Paul II Catholic Academy. As Beth reflected on how her work at SJPIICA reflects unifying love, it flared in her words, her facial expression, and her enthusiasm.

As an associate with the Sisters of St. Joseph of Boston, Beth walks into her second-grade classroom immersed in the mission and tradition of the Sisters of St. Joseph. "During elementary school at St. Agatha, Milton, Sister Marilyn MacGregor, CSJ, [Sister Florentinus] helped me feel okay on days when she came to school not really feeling okay. Sister Marilyn changed my life," Beth remarked. Reflecting on her time at St. Agatha, Beth now realizes that Sister Marilyn, who introduced cutting-edge programs at the school and was a visionary in the educational field, is just one example of sisters who were leaders in educational excellence throughout our 150 years in Boston.

From Oct. 2, 1873, when Mother Regis Casserly and her companions arrived in Boston to open a school in the basement of St. Thomas Aquinas Church, Jamaica Plain, the sisters' passion for educational excellence has grown. The beginnings of the Catholic educational system in Boston occurred amid an openly antagonistic atmosphere for all religious congregations invited to teach Boston's growing Catholic immigrant population of the 19th century. Despite this unwelcoming climate, Catholic education continued to grow.

Since 1873, the Sisters of St. Joseph have staffed more than 130 educational institutions, mostly within the archdiocese. This includes parish schools staffed by sisters as they responded to the Catholic schools' expansion of the 19th and 20th centuries and schools and colleges sponsored by the congregation. In addition to classroom teaching, they have been present at all levels of leadership in schools, colleges, and archdiocesan administration.

The educational story of the Boston CSJs rests on the astute experience of the founding sisters. It has been said that probably no better network of educating teachers than that practiced by religious communities ever existed. For many years, younger sisters worked with an experienced sister in a partnership known as "corresponding teachers." Today it is called "mentoring." After Vatican II, Sisters continually immersed themselves in evolving educational trends, and the renewal of faith-formation. They also learned to respond to world issues from the perspective of the Church's Social Justice Teaching. This continues today and is always in service of the mission of unifying love.

How does this mission continue into the future? This is where "Unifying Love Flares," the theme of our 150th anniversary in Boston, comes alive. We began with Beth Sheehan, educated by Sisters of St. Joseph at St. Agatha, Milton, and Regis College. Each day, Beth brings that unifying love to her classroom and all she meets. SJPIICA, legacy school of 10 Dorchester parishes: St. Angela, St. Ann, St. Gregory, St. Mark, St. Kevin, St. Margaret, St. Teresa of Calcutta, St. Peter, and St. William now has three campuses. Naturally, transitioning to another school has been difficult for some students, parents, and faculty. When the Mattapan Campus closed in 2018, Beth had been teaching at this site for 30 years. She was offered a position at the Lower Mills Campus. Although this was a big change, not only did she embrace it; she encouraged the parents in Mattapan to do the same. Beth comments, "In everything I do, I try to be a unifier. It's more about actions than words. Having been mentored by Sister Gail Donahue, CSJ, being an associate with the Sisters of St. Joseph, and connections with the sisters through the years has changed me. I believe I've been put on this earth to be a faith-filled person. This is how I hope to plant seeds in others around me."



CONTRIBUTORS: SISTER GAIL DONAHUE, CSJ, SISTER JOANNE GALLAGHER, CSJ, BETH CUSHING, CSJ ASSOCIATE.



Acknowledgements: "125 Years Telling the Story" of the Sisters of St. Joseph of Boston, CSJ, Boston Archives, and Lisa Warshafsky, principal SJPIICA Lower Mills Campus.