Carmel Terrace Assisted Living resident brightens our days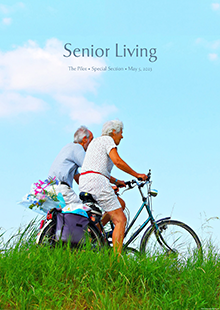 Rosemary Dzindolet, 93, is a resident at Carmel Terrace Assisted Living in Framingham, MA. Rosemary was one of 10 children, raised her own family in Holliston, MA, and was a registered nurse. Rosemary has four children, five grandchildren, and three great-grandchildren.

Rosemary's dedicated daughter, Andrea shares, "My mom, Rosemary, has been at Carmel Terrace since 2020.

Mom couldn't live alone anymore after breaking her hip. She has balance issues, and living in her home, which has stairs, was not a good option anymore. She rehabilitated at St. Patrick's Manor, which is attached to Carmel Terrace and then did a respite (short stay) at Carmel Terrace for a month. She returned home after her respite stay and realized she was not safe, living alone. Her decision to move and live permanently at Carmel Terrace was the best and most logical choice.

My mom is a devout Catholic and loves being able to go to Mass every day! Most of her friends have either passed away or moved away as time goes on; she has enjoyed making new friends with the staff and with the other residents. She has always been an active person and attends most of the activities offered here at Carmel Terrace. She has a very full and active life . . . Better than before!

She enjoys chair dancing, tai chi, and exercise classes in the full gym. Most of all, she loves activities such as painting. She drew and painted pictures when we were growing up and always had a real talent for it, but never had the time to pursue it.

Also, to keep herself stimulated, she enjoys crossword puzzles, brain teasers, and all the brain games offered in Activities.

Overall, she is thriving here at Carmel Terrace spiritually, physically, and socially whereas at home, she would never have the opportunities she has here.

My mom living at Carmel Terrace has been such a blessing for our family, we love seeing her so happy and enjoying this stage of her life!"

Rosemary was pleasantly surprised to have her artwork chosen for the MA ALA (Massachusetts Assisted Living Association) Awards program book, upon submission by Social Opportunities Director Michelle Drumm.



Faith-based senior care on one campus

Carmel Terrace and St. Patrick's Manor are part of the Carmelite System, Inc., and provide a continuum of care for all our aging neighbors' needs in the region in our Framingham location.

Contact Carmel Terrace at 508-788-8000 and St. Patrick's Manor at 508-879-8000.