Father Alphonsus Hien Quang Vu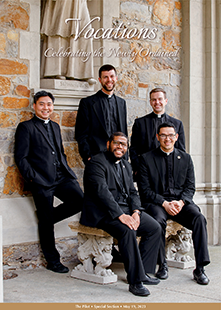 BRIGHTON -- Father Alphonsus Hien Quang Vu believes his vocation was sown in him before he was born. He was his parents' first child, and when his mother was pregnant with him, she prayed for St. Alphonsus' intercession, hoping to offer her firstborn to God as a priest or religious.

He grew up with his parents and two younger sisters in the Thuong Tin District of Hanoi, Vietnam. He played soccer from a young age, which taught him about teamwork and communication.

Everyone in his community was Catholic, but due to a shortage of priests, his parish did not have a pastor. He and his family had to wake up early every morning, around 3:30 a.m., and walk two miles to attend Mass in another town. On the way home, his mother would ask him questions about the Mass -- such as what color vestments the priest wore, or what the homily was about -- in order to test whether he had been paying attention.

Father Vu eventually became an altar server. But when his mother asked him what he wanted to be when he grew up, his answer was a businessman. So, he went to study economics at Ha Noi Open University. However, by his second year of studies, he began to feel the call to a priestly vocation.

In 2006, he went to confession and related what he was feeling. His confessor gave him a Bible and told him to pray about it and come back a week later. That priest, Father Joseph Canh Thanh Vu, became his mentor for the next 16 years as he journeyed toward the priesthood.

"Through his life as a gentle, prudent, generous, and holy priest, I am inspired to the priestly vocation," Father Vu said.

He spent six years in a pre-seminary program before entering Hanoi Seminary's pre-theology program in 2013. He spent three years there, and in 2016, his archbishop sent him to study at St. John's Seminary.

In his free time, Father Vu enjoys reading novels while listening to instrumental music, or walking and taking pictures of nature. He still enjoys playing soccer and watching games, and he has also become a fan of American football since coming to the U.S.

For his diaconate, he was assigned to St. John the Evangelist Church at St. Michael the Archangel Parish in Winthrop. He has enjoyed preaching and performing baptisms. He said the babies he baptizes never seem to cry around him, even when posing for pictures.

Father Vu said he thinks it is fitting that his namesake, St. Alphonsus, is the patron saint of confessors and moral theologians. While he does not see himself becoming a moral theologian, he hopes to become a "good and holy" confessor, "conveying God's mercy and love to his people."

To those discerning their vocation, Father Vu said he would recommend taking time for silent, intentional prayer before the Blessed Sacrament. This is something he has been able to do at St. John's Seminary, where they hold a Holy Hour every day.

He has drawn inspiration from the words of St. Alphonsus: "Amongst all devotions, after receiving the sacraments, that of adoring Jesus in the Blessed Sacrament takes the first place, is the most pleasing to God and the most useful to ourselves ... Oh, what a beautiful delight to be before an altar with faith ... to represent our wants to him, as a friend does to a friend in whom he places all his trust."



This article originally appeared in the April 21 issue of The Pilot.



Father Alphonsus Hien Quang Vu

Born on Nov. 21, 1987, at Ha Noi, Vietnam, Father Vu is the eldest of the three children of Hien and Huyen Do Vu. His siblings are two younger sisters: Mary Han Ngoc Vu and Anna Diep Ngoc Vu.

All of his education from elementary through college was in his native Ha Noi, Vietnam: Ninh So School, Nguyen Trai-Thuong Tin School, and Ha Noi Open University.

He is an alumnus of St. John Seminary and has been serving his deacon year at St. Michael the Archangel Parish in Winthrop.

Father Vu will celebrate a Mass of Thanksgiving at the Chapel of St. John Seminary, Brighton, on May 20, 2023, at 5:30 p.m. Father Christopher O'Connor, pastor of St. Michael Parish, Winthrop, will be the homilist.