Once he's ours, he's ours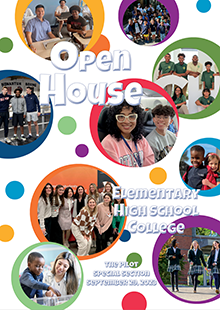 It's no secret that college admissions have become increasingly competitive. In just the past six years, the acceptance rate at Boston College has dropped from 32 percent to 15 percent. At Harvard University, that number is down to a staggering 3.41 percent. The landscape has never been more competitive, and the challenge to help students thrive and succeed is equally daunting.

How do you not only avoid compromising on academic rigor in the face of an unrelenting adolescent mental health crisis, but continue to excel and innovate? The answer, according to Boston College High's Vice Principal of Teaching and Learning Alison MacDonald, is to put care at the heart of learning.

BC High students have always formed deep bonds and connections with their teachers, coaches, and mentors. It's a hallmark of who we are. But what in past years may have been an unspoken understanding of care is now front, center, and codified. "It's our job to get you through here," says MacDonald, a 23-year BC High veteran. And while the school has long been known for its high standard of learning, MacDonald believes that a wholehearted commitment to student care amplifies rigor, rather than being mutually exclusive.

It's not about raising struggling students to the mean, she adds as a point of emphasis. It's about challenging students to excel in ways they might not have thought possible. "Once he's ours, he's ours," she says passionately. "The worst thing that can happen is a student feeling like we don't know who they are." MacDonald, and the rest of the BC High administration overseeing the school's teaching and learning, are committed to ensuring that doesn't happen.

Vice Principal of Student Life Jennifer Manning notes that a revolutionary House System implemented this academic year has formalized a higher standard of care for each student and added a necessary safety net when the rate of chronic mental health issues for teenagers continues to climb. "Every student has a dedicated support team now," says Manning. "From adult leaders, including their head of house, counselor, and advisor, to peer leaders like house captains and mentors. Nobody is falling through the cracks."

Inside and outside of the classroom, BC High has devoted resources to these endeavors that rival or exceed most small colleges. The school now employs three full-time adjustment counselors and the Academic Resource Center (ARC) boasts five full-time employees.

With capital planning and physical plant updates, the ARC now takes up a whole corner of the Corcoran Library. It's a place that's thoroughly aspirational, not remedial, with comfortable chairs and noise canceling headphones to aid students in their studies. It's a place, Principal Adam Lewis says, where every student is known. "You're greeted by name. You're greeted with a smile. You hear 'how'd that quiz go on Friday?' and there's no stigma -- because you know those people care about you."

"We really encourage families to share their students' learning challenges with us right away," says MacDonald. "We can get him on an individualized learning plan -- get him set up with in-person tutoring -- and empower and embolden him to shoot for those Advanced Placement (AP) classes, to take a course he might have feared otherwise."

Reflecting on the pursuit of excellence, MacDonald muses that there's perhaps no better paragon of perseverance than Ignatius of Loyola himself. "He had to go back to basically grammar school in his 30s to learn Latin. So, you have this amazing image -- probably anachronistic -- of Ignatius, future saint, crammed into this small school desk next to young boys. And the generosity of their tutoring, of their companionship, empowered Ignatius to become a priest and start the movement that led to all of us here half a millennium later."

BC High's teaching and learning resources are vastly better than what Ignatius had in his cramped Barcelona school room. But the spirit is the same: good things come to those who strive, and great things come from those who strive.

We encourage you to learn more about our unparalleled opportunities for excellence, and radical commitment to student support and wellbeing at bchigh.edu.



COLLEEN CARTER IS VICE PRESIDENT OF EXTERNAL RELATIONS AT BOSTON COLLEGE HIGH SCHOOL, A JESUIT, CATHOLIC, COLLEGE-PREPARATORY SCHOOL FOR YOUNG MEN IN GRADES SEVEN TO 12. FOUNDED IN 1863, THE SCHOOL ENROLLS APPROXIMATELY 1,500 STUDENTS FROM MORE THAN 140 COMMUNITIES IN EASTERN MASSACHUSETTS.