Cause of canonization opens for Opus Dei priest
---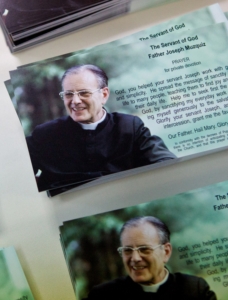 Holy cards with the image of Opus Dei priest Father Joseph Muzquiz are displayed at the June 2 ceremony at the Archdiocese of Boston's Pastoral Center to open his cause of canonization. Pilot photo/Gregory L. Tracy
BRAINTREE -- Several local members of Opus Dei are pleased the Archdiocese of Boston has opened the cause for canonization of one of their cherished priests.

About 150 people, many of whom are local members of Opus Dei, attended the formal opening of an inquiry into the cause of canonization of Father Joseph Muzquiz, a priest of Opus Dei who established the organization in the United States and worked for many years in the greater Boston area, June 2 at the archdiocese's Pastoral Center.

"All Christians are called to be saints and we are deeply grateful that the Archdiocese of Boston is undertaking this effort to see whether Father Joseph Muzquiz indeed truly lived a holy life," said Opus Dei spokesman Brian Finnerty.

Father Muzquiz was born in Spain in 1912. He joined the Nationalist army during the Spanish Civil War after his city was taken over by Nationalist forces. In 1941, he was admitted to Opus Dei.

He was ordained to the priesthood on June 25, 1944. Upon coming to the United States in 1949, he helped establish Opus Dei centers in Chicago and Washington, D.C. He also laid the foundations for Opus Dei's work in Canada, Japan and Venezuela. During the 1960s and 1970s he worked in Europe and pressed for the canonization of the organization's founder, Father Josemaria Escriva.