Archdiocese has a new tool for the new evangelization
---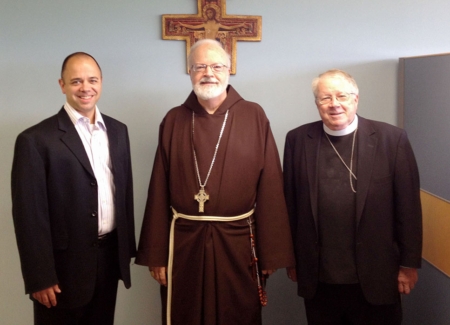 Cardinal Seán P. O'Malley is pictured with Michael M. Lavigne and Episcopal Vicar for the New Evangelization Bishop Arthur Kennedy outside their new Pastoral Center offices Aug. 1. Pilot photo/courtesy CardinalSeansBlog.org
BRAINTREE -- After concluding his tenure as rector at St. John's Seminary in Brighton, Bishop Arthur L. Kennedy took up his duties as Episcopal Vicar for the New Evangelization with his new assistant Michael M. Lavigne on July 1.

The new office will follow the mandate set by Pope Benedict XVI when he appointed Archbishop Rino Fisichella to head the Pontifical Council for Promoting the New Evangelization. Bishop Kennedy said the new evangelization in the archdiocese will extend programs meant to get Catholics back to Church and regular faith life such as Catholics Come Home and Why Catholic?

"Our task now is to really begin to address the questions more methodologically, that have been identified in large measure by Pope Benedict and by this new council," he said.

Bishop Kennedy said Cardinal Seán P. O'Malley spurred the creation of the office out of concern for the need for a new evangelization, a concern that extends well beyond the archdiocese.

"This concern that he has, is a concern of basically the whole Church in the West," Bishop Kennedy said.

The bishop described the difference between "the old" evangelization, undertaken as the Gospel spread through a world unfamiliar with early Christianity, and the new evangelization, called for in the face of waning support in previously established strongholds of Christianity.